Industrial and Commercial Concrete Cutting and Drilling
Asphalt, Concrete Cutting & Drilling
Our concrete services are available at reasonable rates for concrete walls, foundations, parking lots, commercial centers, concrete beams and columns. Whatever property or structural component the concrete core drilling or sawing work is needed for, R.G. Helmer Co., Inc. guarantees a precisely sized, smooth surface prime for utility installations or finishing work.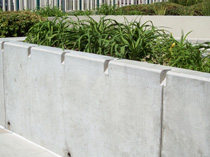 Asphalt, Concrete Cutting & Core Drilling Capabilities:
Core drilling (or concrete coring)
Concrete wall sawing
Concrete slab or flat sawing
Skateboard Deterrent Service:
Specialty concrete cutting technique created by R.G. Helmer Co.
Prevents skateboarders and rollerbladers from damaging concrete surfaces on property exteriors, such as curbs, steps, and ramps, with their gear.
Where does R.G. Helmer Co. perform concrete sawing and coring services?
Orange County, the Inland Empire, Southern California